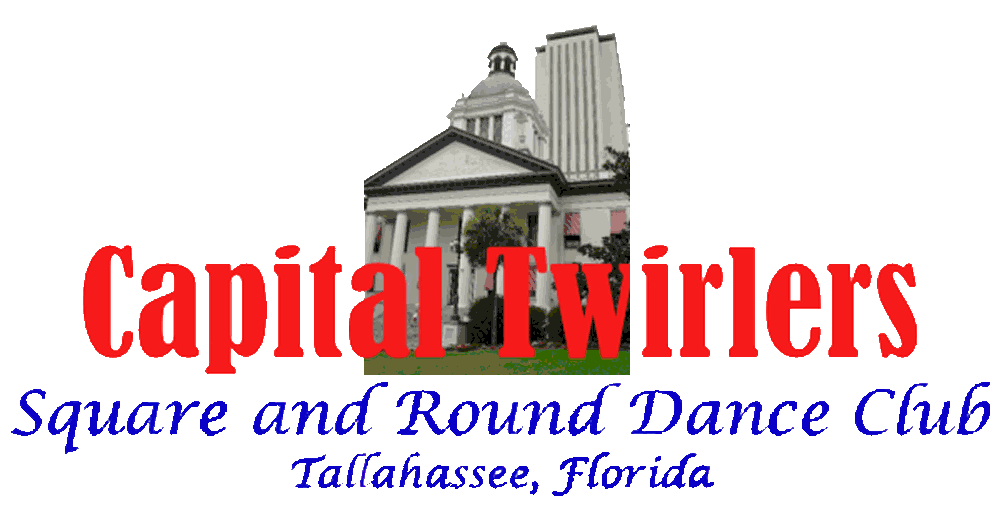 Welcome to The Capital Twirlers Square Dance Club
Take Square Dancing for a Spin! Tallahassee's Capital Twirlers Square Dance Club invites you to give us a twirl at a FREE Open House!

Come see what the Do-Si-Do is all about on January 29, 2018 at an open house to see a demonstration and to participate in some basic calls. Then stick around to join in the fun when a new beginner's class starts on February 5th.

Open Houses: January 22 and 29, 2018 from 7:00 to 8:00 p.m.
Lessons Begin: February 5, 2018 7:00 to 8:00.

Read the Flyer here!
Changed dates / locations:
March 6 instead of March 5 - Dance at Fellowship Presbyterian Church
March 13 instead of March 12 - Dance at Fellowship Presbyterian Church
May 29 instead of May 28 - Dance at Senior Center


Tallahassee Senior Center Ballroom
1400 N. Monroe St.
2nd Floor Auditorium

We dance Mondays
Mainstream & plus dance 7:00 to 9:00
Non-member dance donation: $5
Lessons given annually in February
Map and driving directions

For more information about the club or its activities, contact Hillman Brannon at 850-544-5127
brannonhg@gmail.com
The Capital Twirlers' Officers - 2018
President: Hillman Brannon
Vice President: Lou Neuman
Secretary: Connie Carpenter
Treasurer: Gary Yancey
Social Secretary: Judy Yancey
Member-At-Large: Penny Gilmer
North Florida Representatives:
Hillman & Lin Brannon
Caller: Elmer Sheffield

Our 2017 graduates!

---
Free Websites for square dance clubs - created and hosted for you:
websites@travelinghoedowners.com




Square Dance Lessons / Instruction / Dance DVD Videos






© 2011-2018 The Traveling Hoedowners